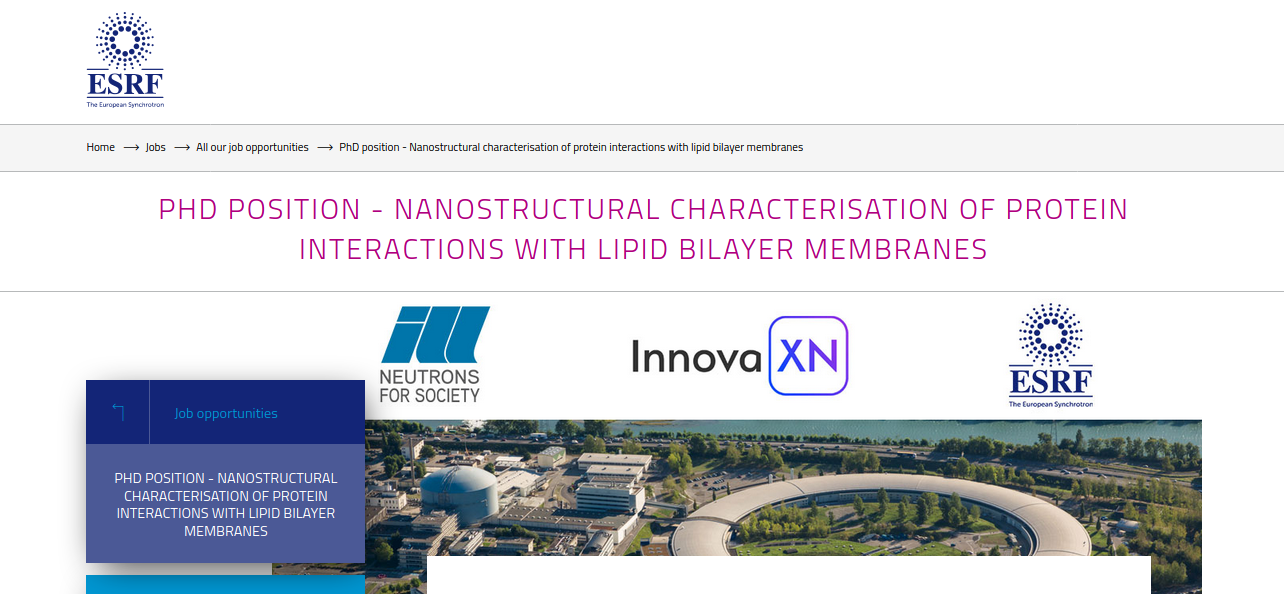 PhD position
Neutrons for society - InnovaXN - ESRF - TIMC
This offer is related to the following project:
"Nanostructural characterisation of protein interactions with lipid bilayer membranes : basis for biosensor development."
This PhD project is in the field of biosensors based on nanostructured biomimetic tethered lipid bilayers (tBLM) to detect plasma proteins.
Expected profile:
Degree allowing enrolment for a PhD (such as MSc, Master 2 de Recherche, Laurea or equivalent) in physics, materials science, chemistry or closely related science
background in large scale facilities experiments (neutron and x-ray scattering), and knowledge computer programming (C++, Python) would be an advantage
Ability in handling of biological materials would be an advantage
...
The successful candidate will be enrolled in the doctoral school of Université Grenoble Alpes and based full-time at the ILL (Grenoble, France), other than a 3-month secondment at SDX-membranes (Roseville, Australia). Additional visits totaling no more than 3 months may be made to the University Grenoble Alpes when needed. Furthermore, a varied pedagogical training programme will be offered to the successful candidate throughout the 3-year PhD project.
 
Deadline for applications: 31/03/2021
Contract duration: 36 months

Contacts:

Giovanna Fragneto (email:

fragneto

[at]

ill.fr

),
Marco Maccarini  (email:

marco.maccarini

[at]

univ-grenoble-alpes.fr

) or
Donald Martin (email:

donald.martin

[at]

univ-grenoble-alpes.fr

)